The Flouri in e-vasilopita 2022 is a faithful copy of IOANNIS I . TZIMISKI Byzantine Istamenon nomisma
Minted 969-976 Constantinople
Gilt
Weight:4,41gr
Diameter: 22mm
Observe: bust of christ.
Reverse: the Virgin blessing the emperor.

Invitation for free registration
..GET YOUR "fele*"
The cutting will take place on January 1st 2022 00:00-23:59 Greek time (GMT+02)
We invide all Greeks (from Greece, Cyprus, Hellenism abroad) and all Philhellenes(friends of Greece), to register for free click on the next image  to take your "fele" (slice) on 1/1/2022 e-vasilopita cutting

REGISTRATIONS will be accepted until December 31 2021. Registgraqtions after 12/31/2021 will be transfered to the next year e-vasilopita.
After 48 hours from your registration time you will be able to (Login) visit your table(group). On the day of the cutting, a piece of e-vasilopita will appear next to your name and by clicking on it, it will turn upside down and you will see what is inside(Flouri or Symbol). It should be noted that you do not need to be online on the day and time of the cutting. You can look for the FLOURI in your piece any other day, after the cutting.
"fele" named a piece of vasilopita in Epirus. (NW Greece Region)
According to the Greek folklore, the cutting of the vasilopita was done in almost all parts of Hellenism as follows: (with small variations locally)
" One piece for Christ, one for Holy mother, one for Santa Claus, one for housholder, one for his wife, one for every member of the family, one for the animals, one for the crops, one for poor and one for the foreigner "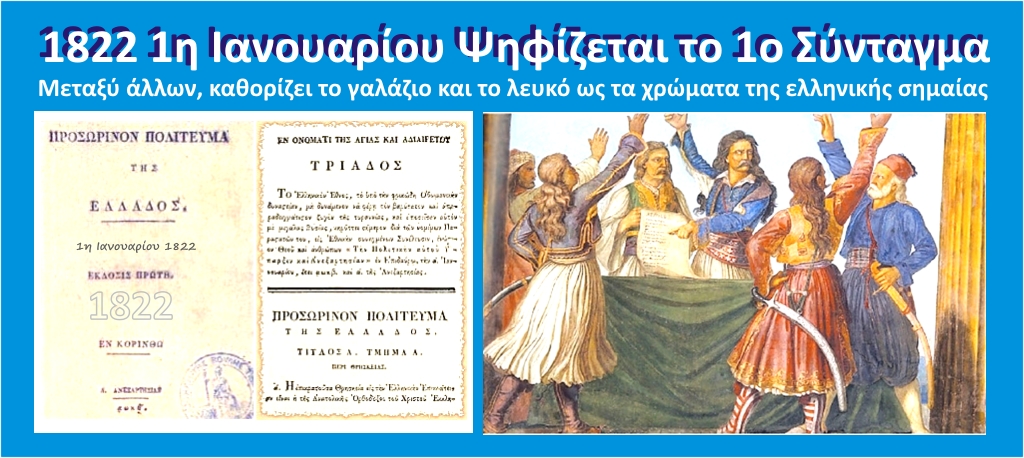 e-vasilopita 2022 is dedicated to the completion of 200 years since the enactment of the 1st Greek Constitution.
from the First National Assembly of Epidavros
the first Greek Constitution, where among other things it defined blue and white as the colors of the Greek Flag ..